Mangalam Dangalam (SAB TV) Serial Wiki, Story, Timing, Cast Real Name
Mangalam Dangalam is a comedy show which first aired on SAB TV on 13th November 2018. The show promises to be mix of entertainment and drama.
Wiki
The show is produced by Viniyard Films. Veteran actor Manoj Joshi is in the lead role along with Karanveer Sharma and Manisha Rawat. Manoj Joshi is playing the role of a father-in-law in this show. This is his first television show in a comedy role.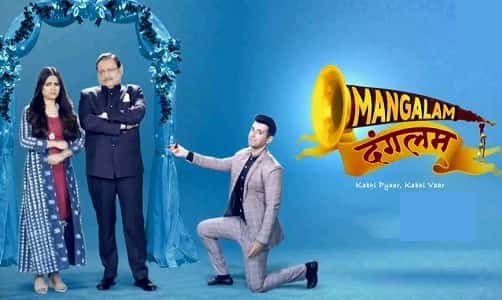 Story
The story showcases the chemistry between a father-in-law who is possessive of his daughter and his son-in-law. The story starts with Sanjeev Saklecha's daughter Rumi falling in love with their neighbour Arjun who hails from South India. Sanjeev Saklecha is a loving and possessive father who wants his daughter to get married to a man who is perfect for her in all respects. He is a rich man and also very shrewd in nature. The show will revolve around the bond between a father-in-law and his son-in-law in a humorous manner. Currently, the story is centered on the love story of Rumi and Arjun and the latter's attempt to convince Sanjeev Saklecha to accept the relationship.
The show is different in the respect that it humorously explores the relationship between a father-in-law and son-in-law instead of the usual Saas-Bahu equation. The concept of the show is unique.
Timing
The shows airs from Monday to Friday at 7:30 pm. The show has completed 10 episodes till date.
Cast Real Name
Manoj Joshi as Sanjeev Saklecha
Manisha Rawat as Rumi
Karanveer Sharma as Arjun aka Nagarjun Kutty
Anjali Gupta as Sangeeta Saklecha
Anita Kulkarni as Charulata Kutty
Abhay Kulkarni as Venkatesh Kutty
Pravisht Mishra as Sahil
Saptrisihi Ghosh as Sanjeev's brother
Shubha Khote as Rumi's grandmother
Kritika Sharma as Arjun's sister