Krishna Chali London (Star Plus) Serial Wiki, Story, Timing, Cast Real Name
Krishna Chali London is a serial that is based on the love story of Radhe and Krishna. In this story, Radhe is an illiterate boy, and Krishna is an educated girl who wants to become a doctor. She has a dream to go to London for higher studies.
Her father fixes the marriage with Radhe. This show is doing well on the screen, and the audiences are loving the story of the serial.
Wiki
Krishna Chali London is a show starring Gaurav Sareen and Megha Chakraborty, and Saurabh Tiwari produces this show. This show is based on one of the Oakland works of famous author Hari Shankar Parsai, and it stars the actors like Abhinanadan Jindal, Madhuri Sanjeev, Ishaan Singh Manhas, Sushmita Mukherjee, Bhagwan Tiwari, Neeraj Sood, Divya Malik and more.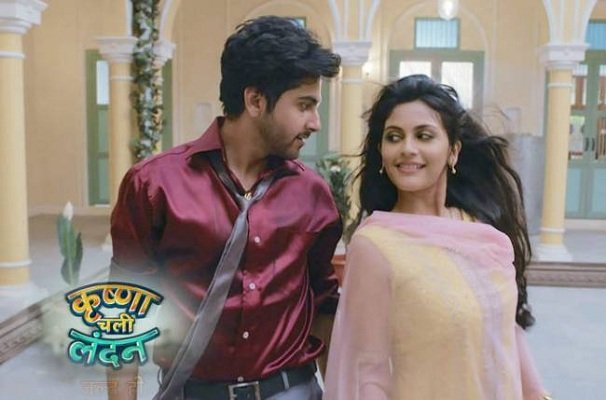 Story
The story of this show revolves around the lover boy Radhe Lal Shukla and a doctor Krishna Dubey. Radhe is from a rich family but is an illiterate boy who lives in Kanpur. His parents are searching for a well-educated wife for Radhe, and they want to answer the humiliation of society with it. Krishna is a doctor, and she is a motherless girl. She wants to go to London for higher education. Her father forced her to get married to Radhey. After that, several changes come in their life, and Krishna starts to love Radhe. The story is all about their love, marriage and family relations.
Timing
The show was started on 21st may 2018, and it is aired on Star Plus from Monday to Friday at 9 p.m.
Cast Real name
Megha Chakraborty as Krishna Dubey
Gaurav Sareen as Radhe Lal Shukla
Neeraj Sood as Dubey ji, Krishna's father
Sushmita Mukherjee as Krishna's aunt
Pawan Mahendru as Krishna's uncle
Ishaan Singh Manhas as Prashant
Bhagwan Tiwari as Bade Shukla ji
Madhuri Sanjeev as Shuklain
Sunny Sachdeva as Gajanan "Gajju" Singh Shukla
Divya Malik as Laali "Laliya" Shukla