The testing strip does not work on coding technology that makes the strips convenient to take in use anytime, anywhere. The packaging of 50 strips is quite helpful for the quick result. Although, each strip can be used for a single time. The product's weight is 200 g that, which makes the item convenient to take a long to any trip.
This valuable feature helps people decide their diet and make their schedules accordingly. In addition, the strips are easy to absorb all types of blood, such as capillary, neonatal, venous, and arterial blood. Without the particular setup or the detailing into the glucometer machine, The result is easy and instant.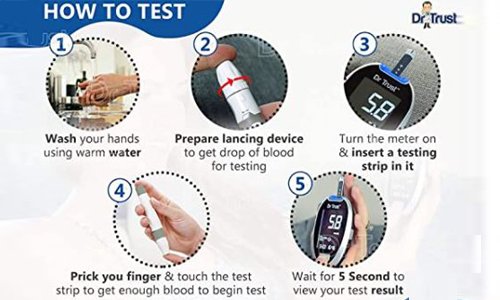 Key uses of Dr. Trust USA Gold Standard test strips
Blood sugar testing
Key benefits
The critical aspect of the test strip is it's easy to use. The monitoring of the strip is effortless.
The results shown by the strip are fast without any unique setup.
It's a painless way of monitoring glucose readings in the blood. A small finger prick is enough.
The strips can take all types of samples of blood.
The incredible fact of the strips is you do not require a special set with all the details into the machine for testing.
Directions for use
The Dr trust USA gold standard test strip Can be used efficiently. First, read the critical steps mentioned below.
To begin with, recognize the device and, if suitable, insert the test strip into the Dr Trust Glucometer Machine.
Get the sample of blood as per the requirement of test strips. Be sure that it is applied on both the edge of the test strip.
The result is instant that is visible on the display screen effortlessly.
In this way, this test strip works.
Safety Information
Storage – Store the test kit that consists of the glucose test strips in a cool and dry place. It keeps their temperature appropriate.
Keep hands clean – For accurate results, be sure to keep your hands clean and dry before using a test strip.
Check expiry date – For accurate working, it's essential to examine the expiry date. This will ensure safety.
Temperature – The test strip is more suitable in an area with a temperature between 0 – 30°C.
Use it once – The test strips are disposable after the one used. Do not make use for the second time.