Laptops are very important gadget today. Not only for the official purpose but it is used for personal purpose by mass group of people.Laptops now a day are so manufactured so much slim and portable that they do not get sufficient space to power the laptop with high capacity battery. Well, in that case we need the extra backup for our laptop especially during travelling or outing with friends. In order to get over with this problem, I have picked a bunch of some best portable laptop battery chargers and power banks that will definitely not disappoint you.
Let's have a look to the features and the price of top 10 portable laptop battery charger and power banks available in India. The rankings are done on the basis of technical specification, customer review and preference along with the price they are available for. Price may differ from seller to seller. Here is the list of my top 10 picks.
10. Turcom Ultra Capacity Portable External Battery Capacity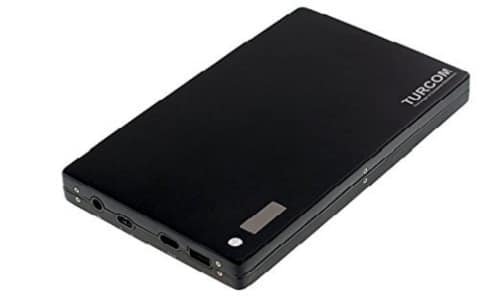 This charger is compatible with most of the types of laptops like Note-Book, Ultra-Book and other varieties of laptop. The battery capacity powered with this device is Li-ion 33600 mAh accommodated with 15V input power and 24V and 15V output.
IN spite being such a huge capacity battery, it takes only Eight Hours to get fully charged. It is quite portable to carry because it weights around 1 Kg which will definitely be easy for travelling and trips. It offers a number of stylish and solid color options like Oink, Black and Silver.
It has 5 smart LEDs which indicate the level of battery and the same indicates the charged level during charging. It can be used for multiple purposes as it is made compatible to adapt with all USB devices. Also, it supports multiple devices to attach at once. You are assured by one year manufacturer's warranty (except for physical damages).
Price: Rs. 4,999
9. XT Power MP-30000 Power Bank
Mostly the power banks are flat in shape but this is a different shaped power bank which resembles to that of brick. It comes with a high-performance capacity of 31200 mAh with 3-Outputs accommodated to it- one for laptop and two for USB. It's very portable as it weighs less than 1 Kg.
It provides the flexible range of outputs from 9V to 20V on the DC Output. It retains charge for a long time as it is powered with Li-ion battery which is compatible not only with all types of laptop but other device as well like Camera, iPod, iPad and Mobile Phones. It can be operated very simply with the one button and indicator LCD displays.
The real smart feature added to this device is that it protects your device from over-charged and short-circuit as well. All the basic accessories like Power Adaptor, DC Adaptor, DC Cable are provided with it.
Price: Rs. 5,500
8. PowerAdd Pilot Pro2 23000 mAh Multi-Voltage Portable Charger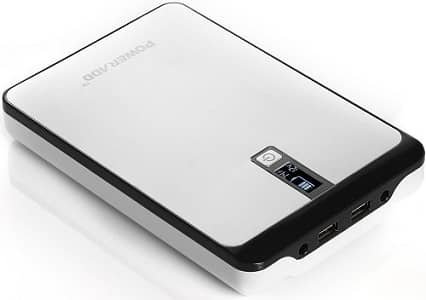 This is one of the most preferred portable charger due to its durability and advanced features that are accommodated to it.The best part available with this device is that it comes with multiple number and types of connectors that will fulfill the compatibility with many of the devices. It is powered with AAA+ Li-polymer battery with a capacity of 23000 mAh.
LCD display fitted to its serves as an indicator for remaining battery level, voltage supply and charging percentage. The smart feature loaded to this device is that it automatically avoids the over-charging and the short circuit and keeps your device safe. It weighs around 900 grams which makes it portable to carry around.
It has very stylish and premium built with aluminum body which makes the temperature level normal. It also gives 2 years warranty which does not include physical damage.
Price: Rs. 5,700
7. Lizone Extra Pro
This is one of the very expensive Portable charger available around but the assurance and durability, quality and technical aspects of this device is able to stand up with the high price. It has the Li-ion battery of capacity 33000 mAh which gives you full two times charge of your small laptop (13/14-inch).
It weighs around 750 grams and has the size just like that of brick but it is slightly thin. It is available in Black and Silver Color which is outfitted in an aluminum body. It does not have smart indicators but battery bars are present to show charging percentage and the level of charge.
The DC port supports the adapter and the USB which can be used to charge your phone up to 14 times and Laptop up to 2 times. This device is worth to pay because of its durability. You need not worry for the reason that device will be less effective soon.
Price: Rs. 10,500
6. Qi-Infinity Upgraded Power Bank
This Portable Battery Charger is powered with 35000 mAh battery and the best part of this power bank is that Qualcomm Qi Technology which is fast charging supportive. Five output ports are provided to it out of which one is to charge the laptop and remaining four gives 5V Output for charging mobile phones and other small devices.
This power bank exclusively offers the Microsoft Popular Surface Range to provide balanced output voltage. Some of the old models of laptop that is enabled with 19V DC Output are not compatible to be charged with this power bank.
But the drawback side of this power bank is that, due to its massive capacity, it is not allowed to be carried in many of the airlines. Some of the smart features are added to this power bank to save your charging device are safe from short circuit, no over-under charge problem, etc.
Price: Rs. 10,499
5. Max Oak K2
This Portable Charger has more than massive with a capacity which is 50000 mAh which is as high as the mountains are. So, it is named after the second highest mountain. This charger is not so much portable and due to its massive capacity, it is not allowed to be carried on Plane which seems to be a great disadvantage.
In spite of being so much expensive it is worth buying because it has a number of ports and it supports to charge the laptop of capacity 60W. It is also powered with Qualcomm Qi Fast Charging Technology.
It has a number of ports to offer charging to different types of device and multiple device at a time. Some of the drawbacks of this device is that it lacks Type-C port and it takes 8 hours to get fully charged but its worth as back up is commendable.
Price: Rs.9,500
4. Sandberg 20000 mAh Power Bank
Though this charger seems to be expensive in comparison to its price and capacity, it is suitable for you if security is the concern because it exercises the automatic control over the output voltage required by the device plugged-in with it.
It is powered with a battery capacity of 20000 mAh and the number of connectors connected to it are 2 USB Ports from which can charge different types of devices including your mobile phone and 1 DC Output for your laptop.
Besides that, it has got a very premium finish made up of Aluminum and the LED lights are used clearly to indicate the level of charge and battery percentage. In spite of having around 12 ports it does not have Type-C Port.
Price: Rs. 7,000
3. IntoCircuit Power Monster 32000 mAh Portable Charger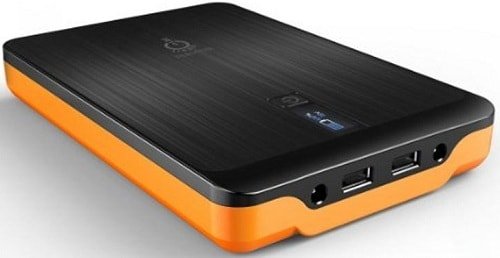 This Portable Charger is named as a Monster of Power as it is loaded with the battery capacity of 32000 mAh capable giving charge to your cell phone more than 10 times after giving the full charge to the laptop.
It is accommodated with 3 Ports which makes it capable to charge three devices at a time out of which one will be the Laptop DC Charging Port and remaining two for the USB device.
The smart LCD screen fitted to it helps to show the battery level, voltage and the charging percentage. Besides these, it is very secure due to the multiple circuit fitted to it which is capable to protect your device from getting over-heated, get short circuit and it has 1 year replacement warranty.
Price: Rs. 9,500
2. Crave PowerPack CRVPP101
Again, comes in the list another very massive Power Bank with a capacity of 50000 mAh which means it can charge your laptop 2 times and other different mobile devices as well. It is accommodated with Four USB Ports and Two Laptop DC Ports offering you multiple charge at a time and it is compatible to most of the brands.
It weights around 1 Kg which makes it quite portable and the micro USB cable and the travel pouch makes it easier to carry with.It is not compatible with Mac Books as specific connector in respect of same is not available easily.
It does not have Qualcomm Qi Technology still, it offers relatively fast charging than other chargers. It also comes with the warranty of 1 year which does not include physical damage obviously.
Price: Rs. 9,800
1. ChargeTech Portable AC Battery Pack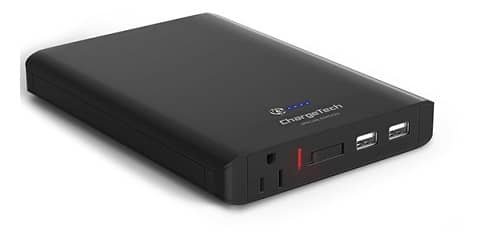 Finally, comes in the list the most powerful Portable Laptop Battery Charger. No only powerful, but it is one of the best and deserving power bank in the list of all the power banks because it is one of the lightest yet very powerful to charge the devices. Being very light in weight, it is portable to carry with.
It is powered with 27000 mAh battery which is capable to charge the devices up to 85 Watt.Coming to the ports, it has quick charging 2.4A two USB Ports and a single AC Outlet to give charging to your laptop.
It is compatible with almost all the laptops but it has not specifically mentioned about the Type-C Port as. Besides that, it comes with a very powerful Li-ion battery from Panasonic and Sanyo. To indicate the level of charge and the battery it if provided with 4 LED Bulbs. It is provided with speed charging port to charge itself in 2-3 hours.
Price: Rs. 13,000
Finally, problem of battery back-up in using laptop has been resolved with the completion of above list where you can definitely get one of your best pick to keep your laptop powered. So, no more problem will occur due to the battery issues further. Feel free to let us know through the comment box in case I have left any better model of Portable Laptop Battery Charger and share your experience if you have picked any one of the model above. For more such updates, keep in tune with us.