Having a Bluetooth speaker at home can add up to the multimedia system and provide you an alternative to spend quality time sitting at home. People prefer having Bluetooth speakers because they are convenient to use and you can take them anywhere. However, you can find two types of Bluetooth speaker, one with battery and second without the battery.
As we talking about Bluetooth speaker under 1000 rs. in India, so, we have to compromise the battery part. Getting a battery for such a low price point is not possible in all the cases but all our choices will blow your mind and make you opt for them without having a single doubt. We are mentioning the top 5 products based on their built quality, functionality, sound quality and budget factor.
Let's begin by knowing some advantages and then move on to the rest. Knowing the advantage will ease up the work for sure.
The benefit of Having a Bluetooth Speaker
A Bluetooth speaker can easily offer a vast number of advantages. Even if you have a small budget, you can expect the below-mentioned benefits for sure –
The convenience of Use – Whether you want to play music or watch a movie on LED, you can connect speakers using the Bluetooth and eradicate the trouble of tangled wires.
Long Range – Bluetooth speakers allow you to walk freely in home or office by playing songs from a long range. You have 30 meters of range for the convenience.
Looks Astonishing – With the huge range of Bluetooth speakers, you are getting a great design that can add up to your décor. Most of the people love to buy these due to their looks mainly.
Portability – In case you have a portable Bluetooth speaker (Battery powered speaker) then you can find them lightweight. Taking them to any picnic or event is easy.
These are some major advantages that you can easily grab among Bluetooth speakers. The only issue with cheap priced Bluetooth speaker is the audio quality which may seem lower as compared to the other choices available in the market.
Top 5 Bluetooth Speakers Under 1000
As there is plenty of Bluetooth speakers' manufacturer with different brand credibility and after sale services, we have picked up some of the best and most popular brands that you can rely on. Our mentioned products are selected by experts based on their sound quality and affordability factor. It may be a hard choice for the first-time buyers but after considering the below-mentioned list, you will feel at ease during the purchase.
1. F&D E200 Soundbar Speaker System

F&D gained huge popularity in the past couple years due to the affordable prices and amazing built quality of their speaker system. From low to high range, you can find all kind of F&D speakers which are suitable to fulfill the exact need. With F&D E200 Soundbar Speaker System, you get all the basic features that you can desire in a quality speaker under 1000
The price factor is always the major one to consider for people with a tight budget. Here, you are spending less than the budget and getting a pretty loud sound. It has 3W output power which is enough for a small room and it became the hub for entertainment purpose. The design seems sturdy and the built quality is also impressive to go after and rely on without a single issue.
Features
Better sound quality from the impressive soundbar design.
The output is of 3W giving you genuine tremble and pretty good bass.
Small and lightweight design supporting all types of connectivity.
Bluetooth range of this soundbar is 30 meter for insider use.
Things We Like
Built quality seems quite reliable as compared to the price point.
Design is sturdy and makes you have. Good in hand feeling.
Great sound quality for the affordable price point of the speaker.
Bluetooth enabled with a long range for safer use of the product.
All the basic accessories are included in a single unit.
Comes with one year of warranty from the date of purchase.
Things We Didn't Like
Slow connectivity and hard to connect with laptop
2. Artis BT08 with TF Card Reader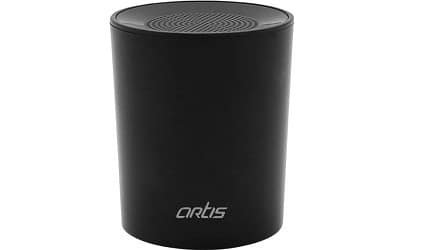 Artis May does not have the same brand credibility but they are well known for cheaper price and a great feature for the same. Artis BT08 with TF Card Reader is widely sold Bluetooth speaker which support TF card also. You can play songs anywhere you go because it has a small lithium-ion battery of 400 mAh. The battery capacity is good enough to play songs for hours.
Coming to sound quality, you can find that it can give you crisp and louder sound. It is not good as our top pick but you can find that there is a small battery to power it so you have to compromise in one factor for sure. The top side of the speaker has a sound output option that's why you can find it better and reliable choice to opt for over the selection of other ones.
Features
Small and lightweight make it easy to carry wherever you go.
400 mAh Li-ion battery to power it up for five hours of backup.
Comes with all the charging accessories and one user manual.
Available in two different colors, black as well as white for a specific need.
Things We Like
Design is super light weight makes it perfect to use.
Color choice let you find the best for your choice.
Gives you 10 meter of operating range for Bluetooth use.
LED light indicator helps you when turned on or off.
Very affordable for the features and functionality.
All the connectivity slots are in the back area.
Things We Didn't Like
Built quality seems very poor
3. Photron P10 Portable Bluetooth Speaker with Mic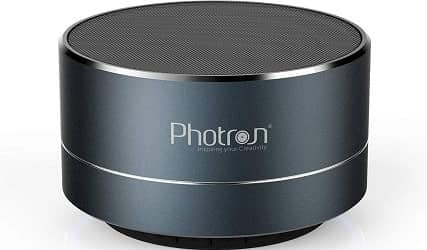 Next up in our choice is the quite a durable product with the easier use that you can rely on upon without any issue. It has a great in-hand feel due to impressive built quality. The design is pretty like a premium product, even it also offers the genuine sound output which makes it better to consider over the purchase of other ones.
Having a mic add up in the features and make it a smart choice. You can easily take calls on this speaker and the sound output will be great. Connectivity features are reliable, you can choose Bluetooth connectivity which gives you 15 to 20 meters of range. The lightweight and compact design make it better to use on trips, picnics and during the travel. The battery life is good enough for long use.
Features
Get 3 hours of battery backup with the 400 mAh battery.
Pretty efficient in durability and made up of premium material.
FM, Bluetooth and Aux connectivity features are offered.
Bluetooth 4.1 for streaming high-quality sound on the speaker.
Things We Like
Great built quality with impressive design.
Speaker sound output is good enough for a small room.
Normal bass and High treble are easy to feel on it.
Comes with a built-in microphone to take calls on this device.
Price is very affordable as compared to the built quality.
FM antenna is included for better use.
Things We Didn't Like
Battery life drops by one hour in a few uses
4. iBall Portable Bluetooth Speaker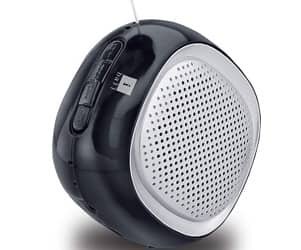 Having a quality speaker with genuine built can easily make you spend extra from the budget. People with the tight budget of 1,000 rs budget may find it expensive to pay for iBall Portable Bluetooth Speaker but it is slightly above the budget. As you can see that iBall is in the market from years, you can find this speaker as a better choice.
The sound output of this device is pretty loud and you can easily play songs for hours. It has the battery backup of 6 hours. Even, you can get more use with the same. There are two different variants available but the other one with the golden finish is a bit expensive from this design. You get four buttons with a great tactile feel which makes it premium product to use.
Features
Simple in design with easy to carry option due to lightweight design.
Battery capacity on a continues to use is 6 hours for normal use.
Sound is pretty loud with genuine bass to fill a small sized room.
Available in two different color variants to fulfill the need.
Things We Like
Extremely lightweight so you can carry it in hand or with the bag.
Comes with all the basic accessories to charge and play via Aux.
Design is super premium and the built quality is absolutely great.
Positive reviews about the functionality and durability of the product.
One year of warranty offered from the date of purchase by the manufacturer.
Things We Didn't Like
Exceeds the budget of 1000rs by a slight fraction.
No FM connectivity feature for such high price point.
5. F&D W4 Wireless Portable Bluetooth Speaker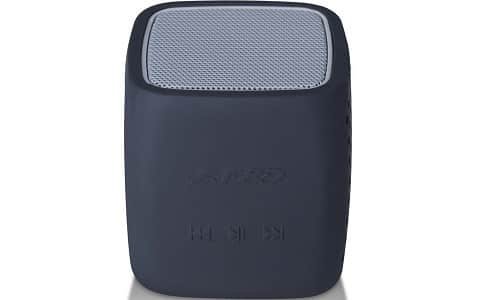 So, the last product on our list is from the same brand we have started with. F&D is surely a credible brand in the speaker industry and this portable speaker from them is reliable to opt for. F&D W4 Wireless Portable Bluetooth Speaker has a loud 3W output of audio with the clear sound quality which makes it reliable to opt for.
The design is small and it gives you premium in-hand feel with the soft texture on the outside wall of this speaker. Keeping such factors aside, there are two connectivity options available, one via Bluetooth, second via Aux cable. After that, you can find that the battery life is good enough to last the jam for 5 hours of non-stop use.
Features
Mini design to offer you higher portability on trips and travel use.
Wireless audio streaming with the Bluetooth 4.1 streaming option.
It has a 1.5 inches full range neodymium driver for quality audio output.
It covers the 360˚ sound field for sound output in all the areas.
Indicator for low battery and charging to let you know about the right status.
Things We Like
Apart from the built quality, it gives you premium in-hand feel.
Designed with perfection to provide sound in all the directions.
Comes with the 1.5 inches full range neodymium driver for high quality.
The low battery indicator is inbuilt and it also works during the charging.
It feels lightweight and easy to use with the tactile button.
Connectivity doesn't take much time to start using.
Things We Didn't Like
Color may vary from the photo, so do not expect the same contrast color.
How to Buy the Best Bluetooth Speaker?
Bluetooth Speaker definitely helps in entertainment and you can find that there are plenty of products available in the market. If you want to reduce the clutter and grab the best one then you can look after the below-mentioned factors and grab the best deal.
Built quality is necessary to consider because if the built quality is great then you can expect better durability.
Sound output plays an important role. Having 3W sound output can fulfill the need with ease and you can rely on them.
Affordability is also necessary to check as if you want the perfect product in a tight budget and 1000 rs is a really tight budget for sure.
Connectivity features are the last one to check out. Bluetooth and Aux are two basic connectivity factors to consider during the purchase.
After considering the above-mentioned factors, you will feel at ease during the purchase of the best one. Make sure that you check out whether there is any warranty offered by the manufacturer or not. This will ease up the work for sure.
The Final Verdict
Make sure that you check out the design and weight of a Bluetooth speaker which is battery powered. Having extra weight can make it hard to carry around. Hope, this post will ease up the work and let you grab the best deal with ease.