Measuring blood sugar levels is now as simple as water. You can measure blood sugar levels anytime and anywhere with the help of the BeatO Smart Glucometer. This glucometer helps you to take sugar reading effortlessly. This glucometer shows your previous reading so that you can compare your blood sugar levels. After thoroughly comparing your blood sugar level you can make necessary changes in your diet and also in your lifestyle.
The accurate measurement of blood glucose level helps your doctor to diagnose you properly with medication. BeatO Smart Glucometer is a handy and compact device that is easy to carry and this is why anyone can measure his or her sugar level anywhere. This is the best device that turns your smartphone into a glucose management device.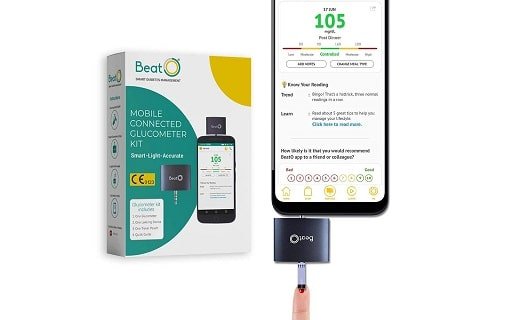 BeatO Smart Glucometer Main Features

This glucometer has some incomparable features that are listed below-
Easy-to-carry compact device.
5 mm audio jack helps you to connect the device with your Smartphone.
The accuracy level is clinically approved.
This glucometer is ISO certified.
Works seamlessly with any Android device and iPhone.
Within a short period, it shows the best and most accurate result of your blood sugar level.
Long-life battery support.
Perform approx. 4000 test with one battery support.
The BeatO app shows the color-coded result, trends of the glucose level.
The BeatO app automatically organizes readings and analyses them with a simple graph.
A team of diabetes experts monitors your blood sugar level and then guides you with a better diet.
Superfine and round point lancet help you painless prick.
A less amount of blood is required to test the blood sugar level.
Automatic alert facility.
How to use BeatO Smart Glucometer:
The following steps will give you a clear vision about how to use this excellent device-
Open the app first.
Insert this glucometer into the audio port of your smartphone.
A Pop- up will appear that ask permission from you.
Grant permission.
Insert strips into the strip port.
With the help of the lancing device prink your finger.
Apply a drop of blood on the edge of the strip.
Wait for 10 seconds your color-coded report will appear on the screen.
Pros:
This glucometer has several benefits like-
Easy to carry device.
It's a user-friendly device.
Long-lasting battery support.
Sufficient amount of test strips and lancet needles.
Support Andriod device.
Compact and innovative device.
Instant doctors support.
BetaO App shows results in the form of a graph that is very helpful to calculate trends in the glucose level.
Auto-save reading facility available.
Display the most accurate result.
Budget-friendly device.
Cons:
Apart from the above-mentioned benefits, the BeatO Smart Glucometer has some disadvantages too. These are-
When you compare the result with the lab-tested result, you will find a difference.
Without an internet connection, the glucometer does not work properly.
Final point:
However, this BeatO Smart Glucometer is an excellent device that has no side effects. So if you want some innovative and tight-budget glucometer then BeatO Smart Glucometer is your right choice.