Do you want a 100% accurate and reliable result of your blood sugar level within a second? Sure no pathology will provide you such result within a short period. Moreover, how accurate the result the pathology will show you completely depends on the knowledge of the pathologist and how attentively he is doing your test. But Accu-Chek Active Glucometer has no such problem. It provides you with the best result with the satisfaction of your mind.
Why Accu-Chek Active Glucometer is so popular?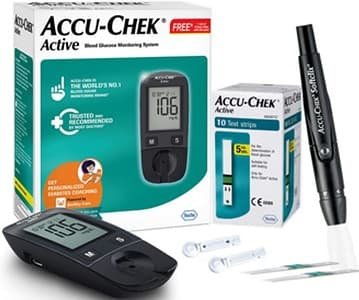 If you read this product description once, your mind pushes you to buy the product. If you keep this glucometer as a handy device at your home you can easily measure the blood sugar level instantly when you feel doubt about your blood sugar level. To test your blood sugar level with the help of this glucometer no pathological knowledge is required. Just read the instructions and use this meter by yourself. However, when you read the main features of this sugar check machine, you will rush to buy the product.
This glucometer shows you the most accurate result as it fulfills ISO 15197:2013 standards.
This meter packs so many powerful features into small sizes, that make the blood sugar monitoring process very easy.
This glucometer has technically strong features that maintain accuracy standards.
To code the meter it needs no code chip and this is why Accu-Chek Active Glucometer is very easy to use.
Its '2-button' operating system makes the device easy to handle.
Its 'Visual double check' system ensures accurate measurement.
Matching color code assures 100% accuracy of the result.
If the amount of blood you apply on it is insufficient, this glucometer will give you approx. 10 seconds to re-dose it.
The report shows up to 7/14/30/90 days of test results.
Strips in or strips out systems make the meter more convenient to use.
When your test strips expire, this glucometer alerts you instantly.
To transfer data, this glucometer uses a USB interface.
Read This Also: Accu-Chek Active Vs Instant Glucometer
Additional Specifications:
This table proves the greatness of the meter by providing additional specifications-
Interval of measurement
10 to 600 mg/dL
Volume of blood
1 to 2 μl
Measurement of time
Test strips inside the meter: approximate 5 seconds.

Test strips outside the meter: approximate 10 seconds.

Power supply facility
1 battery.
Auto Power-off timing
30-90 seconds depending on the operation.
Weight
Light in weight
Accu-Chek Active Glucometer usage:
Accu-Chek Active Glucometer is a hassle-free device. Use of these four steps helps you to get the fast and accurate result-
Insert glucose test strips.
To drop out blood rift a finger with the help of the lancet.
Touch blood-drop carefully onto the green field of its test strip.
Read the result.
Pros:
This Accu-Chek Active Glucometer has ample benefits-
No coding is required.
Easy to monitor blood sugar level.
Easy to read the display result.
2-button facility helps the meter easy to handle.
Shows accurate results.
A little knowledge is enough to handle the meter.
The color indicator helps to understand the result easily.
Visual double-check facility.
Cons:
Apart from the above-mentioned facilities, the glucometer has several disadvantages-
No rechargeable facility is available.
An expensive device.
Recurring cost is required for strips & lancets.
When compared with the test results of the pathology, this glucometer shows different test results.
External conditions like 1.room temperature, 2.Humidity, 3.Altitude impacts measurement.
Final Thought:
Though this glucometer has some disadvantages it is good enough for monitoring blood sugar levels as it is a reliable home device. The use of this glucometer helps you to manage  good health. You may keep your blood sugar level at a control level.