10 Worth Tasting Chocolate Cake Recipes
Chocolate is the all time favorite of many people all over the world. As a matter of fact, there are a lot of people who are more than willing to spend a considerable amount of money just to buy delicious chocolates. This food item is one of the famous treats to individuals in different age brackets. In this regard, here are 10 worth-tasting chocolate cake recipes that you might find extremely irresistible especially if you love chocolates:
10. Chocolate Coconut Cake
This delicious chocolate cake recipe is a combination of dark chocolates and coconut. You need 200 grams of dark chocolates, coconut essence, butter, eggs, sugar, cocoa powder, milk, double cream, desiccated coconut, and flour of course. This cake will surely blow your mind away.
9. Fudgy Chocolate Cake
This worth-tasting chocolate cake recipe needs 25-30 minutes to bake in the oven. It is filled with so much chocolate layers. It has a layer of chocolate fudge frosting, and on top of it is a very thick chocolate ganache. It is incredibly moist, so you will definitely love looking at it.
8. Chocolate and Raspberry Baked Ricotta Cake
As its name suggests, raspberry and ricotta cheese are the stars of this chocolate cake recipe. However, you have to make sure that the ricotta cheese you use is a reduced-fat one. One thing that will make it extremely flavorful is the raspberry sauce.
7. Chocolate Lava Cake
This one may be quite familiar to you, and there's no question about that since chocolate lava cake is a very common treat that you can find in almost pastry houses all over the world. It's just a simple chocolate cake recipe with only 5 simple ingredients.
6. Light Chocolate Cake
Unsalted butter, caster sugar, self-raising flour, cocoa powder, bicarbonate soda, reduced-fat milk, and mixed berries are the main ingredients in this mouth-watering chocolate cake recipe. The mixed berries will be topped on it, making it very colorful and enticing to eat.
5. Eggless Dark Chocolate Truffle
Once you tasted this chocolate cake, you will surely feel that you are in heaven. Its sponge is very soft to touch and eat; not to mention its enticing-looking dark chocolate ganache layers. Some of the ingredients used here are curd, cocoa powder, milk, dark chocolate, and orange zest.
4. Sky-High Salted Caramel Chocolate Layer Cake
This beautiful and delicious chocolate cake recipe is best to serve whatever occasion you're celebrating. It is made up of several layers, depending on your baking capacity. However, it's usually made up of 4 layers chocolate cake. Some of its important ingredients are crushed pretzels, kosher salt, and caramelized and sweetened condensed milk.
3. Chocolate Turtle Cake
What's extremely lovable about this chocolate cake is the considerable amount of chocolates on its middle part. The caramel poured into it will also intensify its level of deliciousness. Adding to the overall greatness of the recipe are the sprinkled pecan nuts. Some of the ingredients you need to take note are the whipped cream, chopped pecans, evaporated milk, and caramels.
2. Chocolate Chip-Caramel Poke Cake
This is the chocolate cake dessert you will never get tired of eating. On top of it is a mouth-watering caramel that will blow your mind away. Its frosting is simply perfect. Some of its important ingredients are vegetable oil, buttermilk, and chocolate chips.
1. Chocolate-Peppermint Poke Cake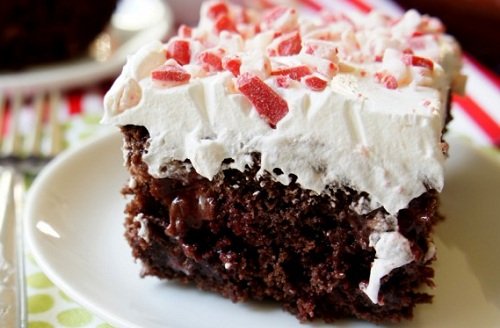 What you will love about this chocolate cake recipe are the peppermint candies that will be melt inside your mouth and the creamy pudding it has. Its sweet and delicious taste is simply irresistible for those chocolate lovers out there. The ingredients you have to take note are the instant pudding of white chocolate, pie filling mix, mint, peppermint extract, vegetable oil, and eggs.
These are the 10 worth-tasting chocolate cake recipes you should not dare to ignore. Once you tasted them, you will crave for some more servings for sure.