10 Sumptuous Chicken Salad Food Recipes
Salad dishes are always preferable to a lot of people all over the world. It is simply because these dishes are known to be very healthy. Not only that, salad dishes are also mouth-watering as the other world class dishes. Chicken salad is one of the healthy and delicious salad food recipes that are loved by so many people these days. In this regard, here are 10 sumptuous chicken salad food recipes everybody must try:
10. Insalata Di Pollo
If you don't want to add some calories in your body, then this Italian classic chicken salad dish is perfect for you to eat. This is made from some amounts of oil, fresh vegetables, and boiled chicken pieces. For a maximum of one and a half hour, the chicken pieces must be boiled. When the chicken is already ready, it will only take 20 minutes for this salad to be prepared.
9. Chicken Pasta Salad
In just 30 minutes of maximum time, this chicken salad food recipe can be prepared for a meal. It is a mixture of delicious and nutritious ingredients namely sweet corn, cherry tomatoes, broccoli, and the pasta twirls Fusilli. The honey-soy dressing is responsible for the enhanced taste of this salad.
8. Coronation Chicken
In this chicken salad food recipe, herbs, mayonnaise, tomato puree, and chicken meat are combined together. After that, this salad dish can already be eaten. Even so, this might also be used as the filling of a sandwich dish. In just 30 minutes, you can already savor this salad dish.
7. Caesar Salad
A bowl of classic Caesar salad will complete any family's meal. This is a very popular chicken salad food recipe, which is prepared by a lot of people in the world. This is a combination of lettuce, cream, eggs, and croutons, and chicken of course. If you are a vegetarian, you can just remove the chicken meat.
6. Asian Sesame Chicken Salad
This chicken salad food recipe is made up of mixed greens or Rocket leaves, blanched asparagus, blanched almond slivers, roasted sesame seeds, and chicken breast strips. Its flavor is enhanced with a tasteful dressing. It can be prepared for a maximum time of 15 minutes.
5. Pasta Salad with Asparagus Dressing
A delightful mix of gooey cheese, eggs, chicken ham, asparagus, potatoes, and pasta are what this particular chicken salad food recipe. This is definitely and sumptuous and satisfying meal, which can be prepared in just a short time. The maximum time it needs for preparation is 30 minutes.
4. Breakfast Salad
If you want to eat crispy delicious chicken salad dish, then the Breakfast salad is the one that you should have. It is very quick to prepare. It only needs 25 minutes before you can eat this salad recipe. Tomatoes, capsicum, lettuce, eggs, and chicken sausages are the main ingredients of this chicken salad recipe.
3. Natasha's Salad
The maximum cooking time of this chicken salad food recipe is 25 minutes. By combining parmesan cheese, figs, avocado, lettuce, gooseberries, and grilled chicken. Some other ingredients of this salad dish are mushroom, garlic, balsamic vinegar, black pepper, salt, olive oil, walnuts, avocado, and pomegranate.
2. Black Tomato, Potato Mash, and Roast Chicken Salad
This chicken salad dish may have longer time requirement in cooking, but rest assured that this is a very delicious one. It requires a maximum time of 2 hours. Of course, the chicken must be roasted first along with the rosemary, thyme, and garlic.
1. Chicken Salad with Plums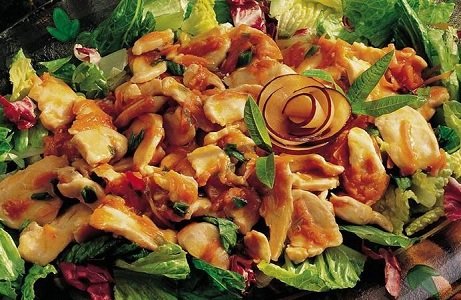 The chicken meat of this chicken salad dish is baked or roasted. Its delicious flavor is absolutely distinct, causing you to crave some more for another serving. The baking time needs a maximum time of 1 hour. When the chicken is ready, it will only take you to prepare the entire dish.
These are the 10 sumptuous chicken salad food recipes that you should try. For sure, you will not regret serving it on your dining table.