10 Simply Irresistible Sandwich Recipes
Sandwich is a very famous snack, breakfast, lunch, and dinner food that is loved by a lot of people all over the world. It is actually a kind of recipe that cannot be prepared without the presence of several other food items like sliced or tiny-cut pieces of meat, cheese, and vegetables. Without them, a sandwich recipe can never be called sandwich after all. In connection to this, here are 10 simply irresistible sandwich recipes you must consider:
10. Peas and Potato Sandwich
Obviously, the main ingredients for this sandwich recipe are potatoes, peas, and sliced breads. And in order to intensify its delicious flavor, curry leaves, spices, and kaffir limes can do the thing. Just make sure to sautee first the potatoes and the peas, and then mash them up afterwards.
9. Spinach, Beets, and Goat Cheese Sandwich
This sandwich recipe can never be prepared without baking the beets for 35-45 minutes. Four small beets are enough. The creamy goat cheese will then make this sandwich a worth-tasting one. It is also best to add some raisins for more flavors.
8. Eggy Bread BLT
Once you see this sandwich recipe right there in front you, there is no way you will not be tempted in grabbing some of it and put it in your mouth. Its very colorful presence is a very enticing thing, of course. It is all thanks to its ingredients that are namely bread, mayonnaise, tomatoes, lettuce, and bacon.
7. Chicken, Provolone, and Sprouts Sandwich
Split and toasted sesame bagels, whole-grain mustard, sliced rotisserie chicken breasts, 4 ounces of sliced provolone, and sprouts are the important ingredients you need to secure so that you can have this sandwich prepared. The melted cheese will also make it more delectable.
6. French Ham and Cheese Sandwich
If you love French style food items, then French Ham and Cheese Sandwich will surely become your new favorite sandwich. Its French twist can be confirmed by its common French ingredients namely fresh tarragon, Dijon mustard, butter, and cornichons.
5. Toasted Chicken Sandwich
If you love eating toasted bread, then there's no way you won't love the toasted chicken sandwich. Prepare some amount of honey, bell peppers, onions, chili, and chicken chunks so that you can make your own sandwich like this. One thing that makes it more delicious to eat is the avocado spread.
4. VGV Vegetable Sandwich
Vegetarians can never resist VGV Vegetable Sandwich since it is only made from fruits and veggies. Meat of any animals is not present on its list of ingredients. What it has are eggplant, zucchini, and broccoli. If you want to taste more sweetness from this sandwich, then add a cheesy plum spread.
3. Egg, Frisee, and Caramelized Onion Sandwich
Preparing this sandwich recipe may require 30 minutes, which is longer than the normal. Well, there's actually no question about that since you still need to cook the egg. Aside from that, you still need to make the sliced onions caramelized.
2. Roasted Broccoli and Blue Cheese Panini
What makes this sandwich perfect is the fact that its ingredients are complementing to one ingredient to another. The strong blue cheese flavor is neutralized by the sweet undertone of the nutritious broccoli. In addition, the blue cheese' creamy texture responds well to the earthy broccoli flavor.
1. Eggplant with Peppers and Beans Sandwich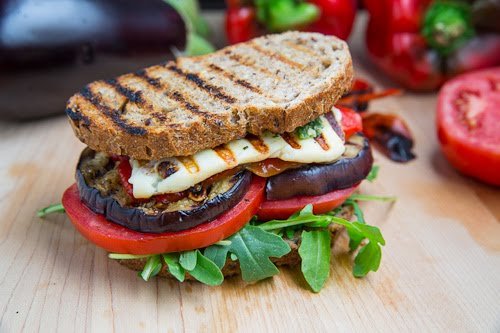 Aside from being a delicious sandwich recipe, Eggplant with Peppers and Beans Sandwich is undeniably nutritious because of its main ingredients. Its Middle Eastern-style spread will also make it more delicious. The spread is made from the mixture of olive oil, lemon juice, tahini, garlic, and mash cannellini beans.
These are the 10 simply irresistible sandwich recipes that you should take time recreating. Without a doubt, these food items are more than enough for your nutritious snacks or meals. Try them now, and confirm it for yourself how delectable they are.