Omellette is also spelled as "Omelet". This is a very famous dish that is prepared by a lot of people all over the world, especially during breakfast times. The main ingredient in this particular delicious dish is an egg, one of the most healthy food for us. It will now depend on you how many pieces of eggs you want to beat and cook for your omellete recipe. The main cooking technique used here is frying with the use of oil or butter. In relation to this, here are 10 healthy omellete recipes you can try:
10. Spicy Omelette with Cashews
This is one omelette recipe that will allow you to taste the new kind of omelette, which is completely different to what you used to eat. Aside from that it is completely healthy, so there's no reason for you not to try it. Some healthy vegetables are added here like mushrooms, capsicums, and celery.
9. Chicken Omelette with Sauteed Mushrooms
This omelette recipe is super healthy since you will only be cooking the egg whites. It is stuffed with some amount of minced chicken meat, which will add flavors to the usual egg you are cooking. Moreover, sautéed mushrooms will also make it more delicious and fascinating to see when served on a plate.
8. Skinny Greek Omelette
In just a maximum of 10 minutes, this super healthy dish can already be served on your dining table. This is just like a Mexican omelette since you will be incorporating colorful green and red peppers. Moreover, cheddar cheese and onions will also be added; not to mention the salsa on top.
7. Balsamic Onion Omelette
This omelette is extremely delicious that you can never resist tasting the moment you see it right there in front of you. What made it very delicious and healthy are the crunch caramelized onions as well as the small amount of balsamic vinegar that will be added into it.
6. Western Omelette
It is an omelette recipe that is perfect whatever mealtime you want to eat it. You can greatly enjoy it during dinner, lunchtime, or breakfast. This omelette is slightly overstuffed since you will be putting several slices of peppers, cheese, and ham on top of it.
5. Spanish Omelette
As its name suggests, this healthy omelette recipe is cooked the Spanish way. It would be perfect to prepare and eat during breakfast times. There's no need for you to worry if it is your first time cooking it since it's very easy to prepare. In Spain, this recipe is known as "Tortilla de Patata".
4. Masala Omelette
No one can deny the extreme healthiness of this omelette recipe. Assorted masalas are the main ingredients here aside from the eggs. Furthermore, making it healthier are the grated cheese, spring onions, and the fresh coriander leaves. It is absolutely the best to eat when served with a bun.
3. Wild Mushroom Omelette
This is actually a classic French-style omelette that is already tried by a lot of people all over the world, and not only French. The stars of this recipe aside from the eggs are the mushrooms. You can choose those favorite mushrooms of yours, or you can choose to have some varieties of mushrooms.
2. Prawn Masala Omelette
This is definitely an omelette recipe that is very healthy and good for the heart. You will be needing some pieces of prawns here. Make sure to sautee first the prawns before adding them to the beaten eggs along with some other ingredients. Another main ingredient here is the masala, of course.
1. Mediterranean Omelette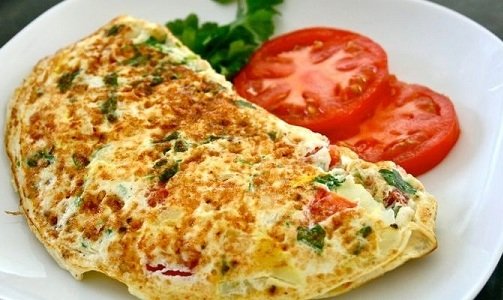 This is such a flavorsome omelette recipe since it is filled with several main ingredients that are healthy enough for you to ignore. These ingredients are oregano, olives, onions, and spinach. If you love Mediterranean food, then this is something you shouldn't ignore.
These are the 10 healthy omelette recipes you should try. Cooking and eating them will truly make you healthier than ever.