10 Extremely Healthy Food Recipes
Who don't want to stay healthy? There is no one, for sure. Everybody is aiming to have a very healthy body in order to live longer and experience the greatness of life for longer years. Even so, such thing these days might be too difficult to achieve. It is simply because people now tend to have inactive and unhealthy lifestyle. This is the main reason why it is no longer surprising why many people die at a very young age every single day. To prevent this from happening, here are 10 extremely healthy food recipes you must consider preparing:
10. Citrus Salad with Olives and Radicchio
This winter salad recipe is undeniably healthy aside from being delicious. What you need here are torn radicchio, green olives, feta or Manchego cheese, fresh parsley leaves, escarole leaves, extra-virgin olive oil, garlic, grapefruit, oranges, sugar, vinegar, and onions.
9. No-Bake Cherry Cheesecake
The graham cracker crust of this simple yet very healthy cake recipe is packed with walnuts. In case you don't know, walnuts are rich in Omega-3, making this recipe good for the heart. In order to watch over your cholesterol level, reduced-fat cream cheese and nonfat Greek yogurt are used here.
8. Broccoli and Tortellini Salad with Arugula Presto
The healthy ingredients of this recipe are garlic, baby arugula, Parmesan or Pecorino cheese, olive oil, toasted pine nuts, grated lemon zest, salt, fresh tortellini cheese, and broccoli florets. To intensify the healthiness of this recipe, choose whole-wheat fresh cheese tortellini.
7. Ancho-Honey Pork Tenderloin with Cheese Grits
Roast pork tenderloin is the main star of this healthy recipe. Honey, ancho chili powder, soy, and lime will then be glazed to this pork tenderloin. And to finally serve this healthy dish, top it with some cheese grits.
6. Chopped Tandoori Chicken Salad
Tandoori chicken is a very common dish in the North India. It is marinated with yogurt and then cooked using a clay oven. With that being said, chopped tandoori chicken salad is undeniably very healthy; not to mention its healthy other ingredients like tomatoes and cucumbers.
5. Spring Pizza
Pizza recipes can never be much healthier than Spring Pizza. In just a maximum of 40 minutes, you can already have this healthy recipe ready to eat. What make it very healthy are the fontina cheese, chives, and asparagus as its toppings.
4. Broccoli, Ham and Cheese Quiche
This healthy recipe looks like a pizza, but it has a very thick layer just like cakes. It has hash brown crust that is crispy enough for you to ignore. At the center of this dish are the combined healthy main ingredients namely the smoky ham, cheddar cheese, and the broccolis.
3. Skillet Gnocchi with Shrimp and Asparagus
The healthy sets of ingredients in this mouth-watering recipe are shrimps, Parmesan cheese, asparagus, and shallots. 30 minutes is all what it needs before you can finally savor it. Make a baby arugula salad that should be served along with this recipe and you're good to go.
2. Seared Steak with Caramelized Onion and Blue Cheese Sauce
In this recipe 30 minutes of preparing and cooking, this restaurant-like recipe can already be served on your dining table. What make it healthy are the crumbled blue cheese, boneless strip steak, and caramelized onions. The steak should be cooked in an skillet so that the desired tenderness of the steak can be achieved.
1. Chicken Potpie with Biscuits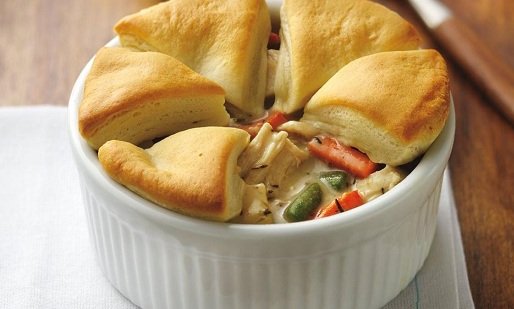 This is a famous comfort food for a lot of people all over the world. On top of the creamy chicken stew are the flaky biscuits that you can eat directly. Some healthy ingredients are nonfat milk, unsalted butter, chicken breasts, and parsley. You can have this food eaten any time you want to.
These are 10 extremely healthy food recipes you should be eating in your everyday living. Live a longer life with these foods served on your dining table.