10 Extremely Delicious Grilled Chicken Recipes
Today, there are a lot of dishes available in the entire world. Some of them are the pride of every nation since these are their original recipes. When you go to any dining establishments, you can also have the chance to taste different food recipes. Some of the most popular dishes today are the grilled chicken recipes. In this regard, here are 10 extremely delicious grilled chicken food recipes that you must taste:
10. Kielbasa Chicken Kabobs
This is one extremely delicious grilled chicken food recipe that you should try. What you need to do is put the sliced chicken meat in a stick together with a few vegetables like mushroom and cucumber. Mushroom must not be absent in this delicious grilled chicken recipe.
9. Lemony Grilled Chicken
Aside from being delicious, Lemony Grilled Chicken recipe is also very easy to prepare; not to mention the fact that its ingredients are readily available in your kitchen. You only need onions, garlic, lemon, and of course, the chicken meat. The best part of the chicken that you should use here is the leg part.
8. Garlic Beer Marinade Grilled Chicken
Chopping the chicken meat into smaller pieces is not anymore needed in this delicious recipe. Just make sure to marinate the chicken meat with the beer and garlic for 24 hours. After that, it is already ready to be grilled and eaten. It will certainly taste nice and unique because of the combination of beer and the herbs.
7. Tequila Lime Grilled Chicken
Obviously, there are only 3 main ingredients that you need in this extremely delectable grilled chicken recipe. These are the chicken meat, fresh lime, and a bottle of tequila. Actually, the amount of tequila needed here is just a small amount, so you don't have to worry for the expenses. You can take a shot on the remaining content of Jose Cuervo tequila.
6. Grilled Breaded Chicken Sandwich
What is needed in this recipe is a boneless chicken breast. This chicken breast should be marinated in a seasoned buttermilk mixture. After being marinated, this should be breaded and after that, the chicken is ready for grilling. The crispy outer chicken skin will surely blow your mind away.
5. Grilled Huli Huli Chicken
This delectable chicken recipe is a pride of all Hawaiians since it originates in the state of Hawaii. In Hawaiian term, "huli" simply means "turn". What will make the chicken very delicious are the brown sugar, soy sauce, and the ginger.
4. Barbecued Chicken Pizzas
This recipe is perfect for a pool party or any house party that you will be holding. You don't have to make your own crust here. The refrigerated pizza crust is more than enough. You must then top it with grilled pieces of chicken meat and cheese. Put it in the oven, and you're good to go.
3.  Baja Chicken & Slaw Sliders
This grilled chicken recipe is just like a sandwich or a burger may be. The crunchy slaw will surely add more flavor into it. Party goers cannot resist this chicken recipe if you will prepare it. Just secure your own bun or bread to complete the recipe.
2. Deconstructed Grilled Chicken Fajitas
This is perfect for a meal, especially to those people who love to eat with a rice. This recipe will never be complete if not partnered with rice. It is simply a perfectly seasoned grilled chicken served with a few vegetables that can match its taste.
1. Spicy Chicken Breasts with Pepper Peach Relish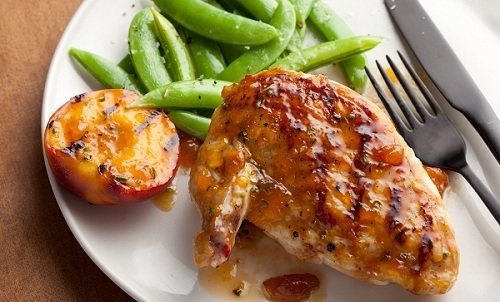 Peaches and peppers are two very important ingredients in this extremely delicious grilled chicken recipe. Without these two, this chicken recipe would be nothing. The colorful final recipe product will surely urge you to taste it.
These are the 10 extremely delicious grilled chicken food recipes that you should taste. You can also try preparing these recipes and serve them to your family.