Chicken is one of the most common ingredients used in a number of recipes. Aside from being delicious, chicken meat is also a great source of nutrition. Without a doubt, chicken dishes are something that you cannot ignore as far as food is concerned. The truth is, there are hundreds of delicious recipes that you can make out from a simple chicken meat. In this regard, here are 10 quick & easy chicken food recipes that you should try eating:
10. Italian-Herb Roasted Chicken
This chicken dish is super easy to cook. You don't even need to prepare for numerous ingredients. All you need to have is a whole chicken meat, garlic, and dried Mediterranean herbs. The needed maximum time in cooking this chicken recipe is 1 hour and 10 minutes.
9. Chicken Marsala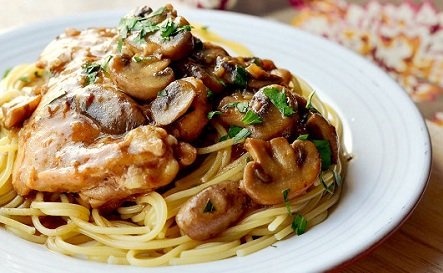 This is actually a savory winter dish that can also make your summertime extra special when it comes to food. All you need here are brown rice, ground black pepper, salt, green onions, marsala wine, red peppers, chicken breast tenders, and canola oil. Cook every single ingredient in an oil-filled pan.
8. Cajun Chicken and Rice
This is a Cajun-inspired dish that only needs one hour for you to cook. There is only a small amount in this delicious chicken recipe, so you can be sure that it will be a very healthy dish that you should savor. To taste the subtle earthiness of this dish, smoked paprika should be added.
7. Crispy Balsamic Chicken Recipe
This is a very simple chicken dish that can be prepared in just a maximum time of 30 minutes. What you need here are fresh basil leaves, baby arugula, balsamic vinegar, Dijon mustard, chicken-breast cutlets, panko, and virgin olive oil. This can be served with the simple dish alone, or with a colorful salad.
6. Chicken Gyro Salad
Different fresh vegetables are the main ingredients in this chicken salad dish along with the chicken meat. The colorful veggies will surely make this dish not only delicious-tasting, but enticing-looking as well. 45 minutes will be the maximum time needed to prepare it.