10 Delicious Snacks During Parties
Everyday, there are different parties held all over the world. In every party, it is very important that all the guests will have a great time. One thing that should be present that will let the guests enjoy is the food, specifically the party snacks. You, as the host of the party, must ensure that the party snacks menu is sure to serve good food. In this regard, here are 10 delicious snacks during parties:
10. Seekh Kebabs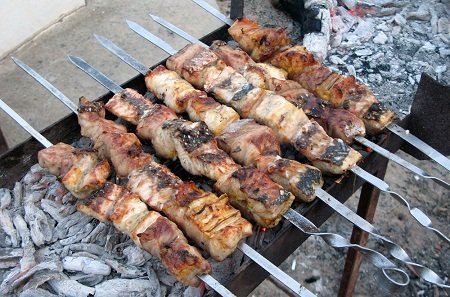 In just 30 minutes, this delicious snacks recipe for parties can already be served to the guests. Even so, this can only be possible if the chicken meat that will be used in this recipe is marinated in advance. Aside from the chicken meat, minced mutton is also needed as its main ingredient. This is a great starter food in a dinner party.
9. Bruschetta
This party snack is very easy and quick to prepare. It will only need a maximum time of 25 minutes. There is no question about that since it is only made from country sliced bread that is topped with mouth-watering toppings. Mushroom garlic and evergreen tomato-basil are the perfect toppings for this snack.
8. Mutton Boti Kebab
This party snack recipe will perfectly fits to your party drinks for sure. It is just like a barbecue dish since you will use skewers where you will put the sliced meat. But before putting it to the skewers, this must be marinated first so that it will become juicy and tasty. After 40 minutes, this will be ready to serve.
7. Corn Fritters
Some of the important ingredients of this party snack dish are red chilli, corn, onion, green chillies, baking powder, baking soda, all-purpose flour, paprika, gram flour, refined flour, cumin seeds, vegetable oil, bell paper, red wine vinegar, olive oil, salt, polenta, flour, parsley, milk, vinegar, garlic, cloves. For only 45 minutes, this recipe is done.
6. Stuffed Jacket Potatoes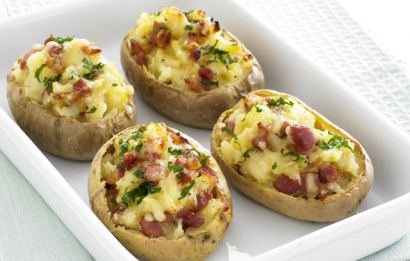 All you need in this delicious party snack are potatoes, tomatoes, onions, and mushrooms. The potatoes must be baked first. Make sure that the potato shells will become crispy before getting it from the oven. In just 40 minutes, you can already serve it to the guests. However, marination time is still needed here.
5. Pina Colada Prawns
For 35 minutes, Pina Colada prawns can already be served. What you need to do here is get some mild spices, lime, and pineapple juice. Mix them together and put the prawns for marination. After the set marination time, bathe them in the rich and creamy coconut sauce.
4. Yogurt Kebab
If you are tired of savoring the traditional kebab dish, then the Yogurt Kebab will be the perfect substitute. It will only take 30 minutes to prepare, so your guests don't need to wait for a longer time before having something for their tummy. Oats, raisins, almonds, yogurt, and cottage cheese are the healthy compositions of this snack.
3. Sesame Crusted Chicken
All you need to do is to bake the chicken meat along with the other ingredients that will intensify its great flavor. Aside from being a very delicious party snack recipe, Sesame Crusted Chicken is also a very healthy food. Spiced yogurt is used in marinating the chicken meat.
2. Thai Fish Cakes with Cucumber Relish
This is an appetizer dish, so it is a perfect starter food item in a dinner party. A tangy cucumber relish will complete the perfectness of this snack. The maximum time needed in cooking it is around 30 minutes.
1. Chicken Wings with Sweet Chilli Sauce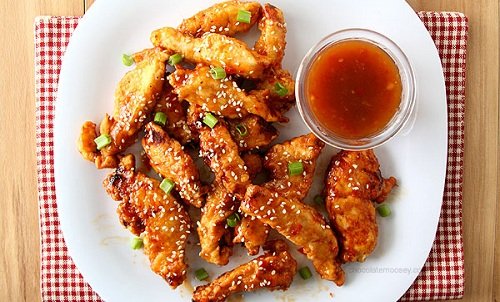 Of course, the chicken wings are the main ingredients in this particular snack recipe. This is a very famous dish that almost all cooking aficionados are trying to recreate it. The chicken wings must be fried first until they reach the right crispiness. The sweet and spicy sauce will complete the dish.
These are the 10 delicious snacks during parties. There is no way guests will not love savoring them.