10 Delicious Mouth Watering Avocado Food Recipes
Avocado is a very nutritious fruit that grows anywhere in the world these days. However, its native lands are in Central America and Mexico. It is considered to be a large berry that contains only one large seed. The other name for avocado fruit is "alligator pear". This fruit is very delicious when converted into dishes. In this regard, here are 10 mouth-watering avocado food recipes that you might like to recreate:
10. Guacamole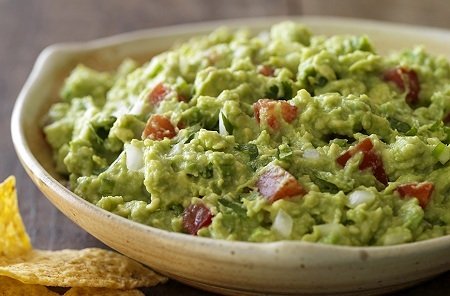 This food recipe mainly made from avocado fruit is actually a delicious dip that originates from Mexico. Preparing it will never consume a considerable amount of your precious time and money. The time needed for you to allocate is just around 10 minutes. The ingredients are lime juice, salt, olive oil, coriander, chili, onion, tomato, and mashed avocado.
9. Coriander & Avocado Relish
This is another avocado dip recipe that is a favorite of many people. It is a mixture of mashed avocado and some other ingredients in order to form a creamy and delicious spread. These other ingredients are lemon juice, yogurt, parsley, and coriander.
8. Thai Pork Salad
This is a pride of Thailand when it comes to delectable cuisines. The main ingredients here are lean pork, cucumber, jalapeno, spring onions, sesame seeds, and sliced avocados. It is a salad recipe, so what you need to do is mix all the ingredients and it is already good to eat.
7. Tossed Mixed Salad
In just a maximum time of 20 minutes, tossed mixed salad can already be done. This is a very healthy and delicious salad made from avocados, onions, lettuce, and cucumbers. Just slice them to any size you want. For its delicious taste, you need to make a sweet and sour sauce.
6. Chicken and Avocado Sandwich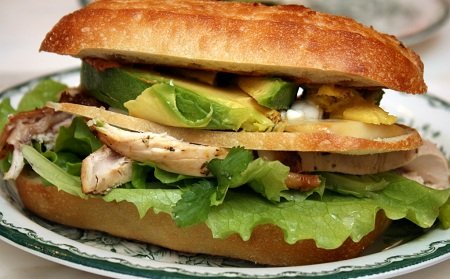 For those people who love savoring sandwiches, then the chicken and avocado sandwich is definitely a perfect food to prepare. Get a pair of bread and put fillings at the center made from chicken chunks, chili onions, and avocado spread. You can also put some tiny-sliced avocados.
5. Seared Tuna with Baby Spinach and Avocado
Some slices of avocado will make this dish a creamy and delicious one. What's needed to be done here is coat the tuna meat with black and white sesame seeds. Afterwards, tuna must be seared into a pan with olive oil. For more aromas, the dish must be added with rosemary.
4. Cilantro-Lime Shrimp Tacos
Taco is one very delicious snack that is a favorite of many people, not only Mexicans where such food originates. For Cilantro-lime shrimp tacos, you need tortillas, limes, salsa verde, red bell pepper, black pepper, scallions, black beans, shrimps, and of course, avocados.
3. Corn and Avocado Salad
10 minutes is the maximum time you need to prepare this very healthy and mouthwatering salad dish. As its name suggests, the ingredients you need are avocados, corns, cherry tomatoes, and bell peppers. Light and spicy dressing must then be added in order to enhance the taste of this recipe.
2. Grilled Shrimp, Mango, and Avocado
This dish would be perfect during summer days. There is no way you will not touch your plate when this dish is served. Just prepare some barbecue sticks where you will put some shrimps, sliced mangoes, and sliced avocados. This will then become extremely delicious with its chili-based sauce supported with the spicy lime.
1. Pearl Barley Salad with Pomegranate and Avocado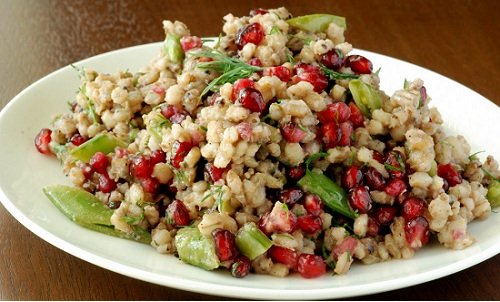 If you are into salad, then this one is something that you must try savoring. This salad recipe will become extra tasteful if drizzled with lemon juice and olive oil. The maximum time needed for this dish is 25 minutes. The important ingredients are barley, pomegranate, chopped avocados, chopped mint leaves, olive oil, lemon juice, salt, chopped tomatoes, and sautéed onions.
These are the 10 mouth-watering avocado food recipes that you must try recreating. For sure, you and your family will love these healthy and delicious dishes.