10 Best TV Snacks You Should Try
Watching movies and television shows while sitting on the couch or lying on your bed is one of the favorite pastimes of many people all over the world. Well, there is no question about that since this is a very relaxing activity that you can do, especially if you are already tired from paperwork or from your school projects. This pastime can surely become worth-doing if you have some snacks with you. With this, here are 10 best TV snacks you should try:
10. Lamb Momos with Sweet Chili Sauce
This TV snack recipe will never consume a lot of your time, so doing your favorite pastime will never be spoiled. In just a maximum time of 40 minutes, you can already have it on the table. All you need are minced lamb meat, chili powder, pepper powder, coriander powder, turmeric powder, chili sauce, soya sauce, garam masala, and vinegar.
9. Popcorn Shrimps
This TV snack recipe is definitely a creative dish that you can recreate. This is crispy and crunchy, so it would be perfect while watching TV. If you have friends with you, then it would be perfect. You can have this recipe done in just 30 minutes.
8. Chicken Feta Cheese Burger
It's absolutely a perfect dish whatever time of the day it is. It's not only great for snack time, but also during any other mealtime. The grilled chicken is absolutely yummy to put between your buns. Potato salad, cheese, lettuce, and mustard are perfect partners of this burger.
7. Crispy Onion Rings
Who would not know about this very popular TV snack recipe? A lot of people have this recipe as their favorite food while watching TV. Its crispiness will certainly drown you into the fantasy world. Of course, onions are the stars of this recipe.
6. Microwave Chocolate Fudge
20 minutes is all you need in cooking this delicious TV snack recipe. However, you still need to send some time letting it cool down before you can start munching them. This is very easy to prepare, if you just have a microwave oven at home.
5. Til-e-Paneer
For those health conscious animals out there, Til-e-Paneer is the TV snack that must be considered. In this recipe, the main star is the cottage cheese that is baked in an oven. The cottage cheese should be laced with sesame seeds and yogurt. It is best when served with chutney and onion ringlets.
4. Hummus
This is actually a dip TV snack recipe loved by so many individuals worldwide. This can be best paired with grilled chicken. However, this alone can also be an appetizer dish. This recipe actually originates from the Middle East. Preparing time for this is only 20 minutes.
3. Pepper Dip with Crudites
In no time, you can already have a TV snack that you can share to your friends with the Pepper Dip with Crudites recipe. No heating is required here. You can even prepare this recipe without going to your kitchen. It is actually a composition of sliced raw vegetables like cucumbers and carrots that is partnered with pepper dip.
2. Do-It-Yourself Tacos
You can never resist the charm of tacos even though you are busy watching your favorite movies or television shows. What you need in this TV snack are cottage cheese, kidney beans, green tomatillo salsa, sour cream, and a mixture of different delicious veggies. You only need 30 minutes to prepare it.
1. Potato Salad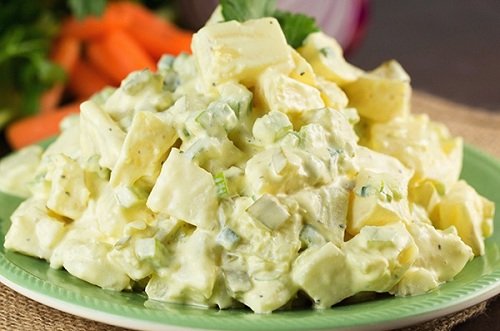 This is the ultimate TV snack recipe of a lot of people all over the globe. The main secret to make this salad recipe extremely delicious is the home made dressing that you will put on the cooked potatoes. In just 15 minutes, everything will be ready.
These are the 10 best snacks that you should try these days. Your watching TV experience will never become so boring with these snacks. Recreate them now, if you still haven't try them preparing for yourself and your family.