Top 10 Best Pudding Food Recipes
The truth is, pudding can be a savory dish or a mouth-watering dessert. But in almost all countries, the term "pudding" automatically directs you to a certain dessert course. There are several descriptions that you can throw on dessert puddings. They must be dairy-based and starchy. This is the reason why rice pudding became a very popular pudding recipe in the world. In this regard, here are 10 best pudding food recipes you need to know:
10. Gooey Chocolate Pudding
Chocoholics in the entire world will surely love this Gooey Chocolate Pudding recipe. This is another way to enjoy chocolates. The crunchy tiny chocolates on top of this recipe are definitely a heaven to eat; not to mention the hot chocolate sauce, ice cream, and whipped cream that go with this recipe.
9. Tofu Mango Mousse Pudding
This is a perfect dessert for all. Vegetarians will surely love it, especially if they are avoiding creamy and dairy fruits. There are only 3 major ingredients in this recipe, and these are the pistachios, tofu, and mangoes. You need 20 minutes for this recipe, and extra time for chilling.
8. Sugar-Free Rice Pudding
Rice pudding is very popular all over the world, and you can't deny that for sure. So, to have some twists, you must try the sugar-free rice pudding. This is a very simple dessert. What you need are rice and milk. But in order to be out of the ordinary, serving it with ginger and pineapple compote would be perfect.
7. Hot Paneer Sandesh Pudding
This is a very healthy pudding dish you should try. It is zero sugar. Organic fruits are the ones to use here. This is a combination of British textures and the traditional Bengali dessert that you will absolutely love. Strawberries will be one of the stars in this pudding recipe.
6. Yogurt Crunch Pudding
If you are looking for a refreshing and light dessert, then you can never go wrong with Yogurt Crunch Pudding. It is ideal during Sundays, when your family is together. After your lunch meal, this is definitely perfect to refresh yourself from the hot noontime weather.
5. Lemon Pudding
This is a classic pudding recipe, but this is also the favorite of many pudding lovers in the world. The richness of the flavor from this dessert is absolutely mind blowing. Its lemony and milky taste is simply perfect for all. All you need here are lemon juice, lemon zest, eggs, butter, caster sugar, flour, ground cinnamon, and milk.
4. Orange Pudding
The citrusy taste of this pudding recipe is one reason why it is loved by many, especially those orange lovers out there. Thick honey-orange sauce will finish this recipe; not to mention the kafir limes added into it. 35 minutes is the maximum time you need here.
3. Danish Apple Pudding
Of course, apples are the main stars of this pudding recipe. Believe it or not, this is an eggless pudding that you must take time tasting. Even though eggs are absent in this recipe, this is still a very delicious one. It has crunchy top; thanks to the buttered breadcrumbs.
2. Bread and Butter Pudding
If you want a very simple and easy-to-do pudding recipe, then bread and butter pudding is something that you must try. It only has basic ingredients namely some buttered breads and raisins. They just need to be put in the oven for several minutes.
1. Sticky Toffee Pudding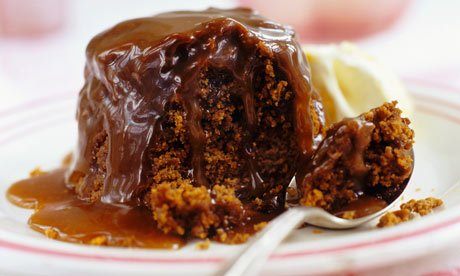 This is the most-loved dessert pudding of British people and in some other individuals in Western countries. Its moist sponge is already a heaven to taste, how much more if a jaggery sauce is drizzled that is made from walnuts. One hour and 30 minutes is the needed time for this recipe.
These are the 10 best pudding food recipes you must take note of. Making your own dessert pudding will surely make your family happy.