10 Best Cauliflower Recipes To Taste in India
Cauliflower is a vegetable that can be reproduced through seeds. The edible part of this veggie is only its head portion or the flower, which is also known as the white curd. The truth is, cauliflower belongs to the same family of Brussels sprouts, kale, collard greens, and cabbage. Cauliflower can be cooked into a very nutritious and mouth-watering dish. In this regard, here are 10 best cauliflower food recipes that you might want to taste:
10. Cauliflower-Crust Pizza
In a typical pizza, the crust is made from eggs and flour. However, this food recipe makes use of cauliflower as the crispy crust, along with some amount of goat's cream cheese. The crust of this pizza is thin enough, causing it to become crispy when eaten. Some other ingredients needed are tomatoes, garlic, onions, black pepper, and dried chili flakes.
9. Cauliflower Cheese
If you are one of those cheese lovers out there, then the Cauliflower Cheese food recipe will surely make you happy. This satisfying meal can be very easy to prepare, and it will only take 40 minutes of your precious time. The primary ingredients are the cauliflower, mustard powder, green chillies, white pepper, salt, cheddar cheese, flour, milk, red chillies, cumin seeds, and butter.
8. Bharwan Gobhi
This delicious 40-minute cauliflower recipe is actually an Indian cuisine that you'll surely love savoring. In this particular dish, cauliflower florets are coated with besan batter before it is deep-fried until it becomes golden brown in color. Cheese mixture and khoya are stuffed in it.
7. Caramelized Cauliflower Soup
This delightfully textured soup is a favorite of many. The rich flavor of this cauliflower food recipe is attributed to the broth added into it. The broth can be replaced cream if you want more richness in this dish. It is best to serve when topped with toasted and chopped hazelnuts, fresh thyme leaves, and black pepper.
6. Gobhi Ka Paratha
In just a maximum time of 30 minutes, Gobhi Ka Paratha can already be served on your dining table. This delicious Indian dish is a grated cauliflower cooked with several seasonings. The important ingredients of this cauliflower dish are salt, green chillies, clarified butter, ginger, lemon juice, coriander leaves, whole wheat flour, and cauliflower.
5. Cauliflower Chili Fry
This is a fiery treat that will put smiles on the faces of spicy food lovers out there. Before frying the cauliflower florets, they are still dipped into the spicy batter first. Also, the cauliflower florets are tossed with curd, green chillies, and curry leaves. The amount of time needed in cooking it is only 35 minutes.
4. Corn and Cauliflower Soup
Winter season will definitely make you crave for a very delectable hot soup dish, and corn and cauliflower soup would be ideal. In just 30 minutes, this cauliflower dish can already be done cooking. Its creamy thick soup is sure to captivate your meticulous palate.
3. Gobhi Masaledar
All you need in this special Indian recipe are cauliflower, coriander leaves, coriander seeds, pimiento, garam masala, salt, turmeric, bay leaf, cumin seeds, vegetable oil, tomato, ginger, garlic, onions, and green chillies. The coriander leaves would make its garnish perfect. Allocate 40 minutes of time in cooking it.
2. Honey Cauliflower
In this mouth-watering dish, the cauliflower florets are put in a pan with oil, and fried to perfection. After which, a zesty sauce is poured into them. Even so, make sure that before you do the frying, they must first be dipped in egg, seasoning, and creamy cornflour batter.
1. Tandoori Gobhi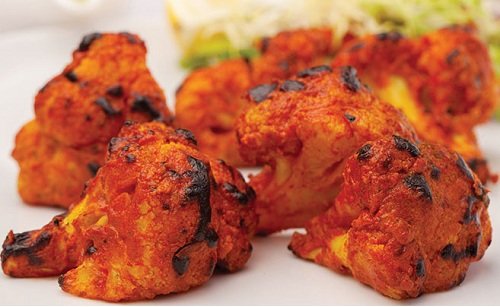 What is needed to be done in this recipe is the cauliflower is grilled well. But before doing it, it must still be marinated within a certain period of time. It will only take 35 minutes of your precious time when you want to cook it. It is best to eat it while it's still hot.
These are the 10 best cauliflower food recipes you must try to taste. For sure, you will ask for more servings once you have tasted them.